2023 Bishop's Appeal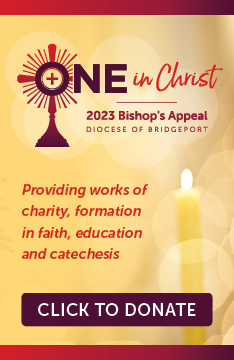 This year's Appeal theme, "One In Christ" is our opportunity to look beyond our parish. It calls us as sharers in the life and mission of the Church, to proclaim with joy the Good News of the Gospel by example and witness in our parish and in surrounding cities, towns and neighborhoods.
In 2023, the Appeal will invest in initiatives that accomplish the following for all people in Fairfield County:
-Teaching and Preaching the Gospel
-Serving Our Community
-Together in Faith, (programs and ministries for
everyone)
Most importantly to provide an encounter with Christ for everyone. It is your gift to the Appeal in response to God's love that will provide the local Church with the financial means to fund a broad range of essential ministries, programs, and agencies that deliver pastoral care and human service where it is most needed.
Whether you have been a donor in the past, have missed a few years or have never given, We can assure you that your participation will have a profound and lasting positive impact! Brochure can be found in the rack in the Church Vestibule. Thank you!